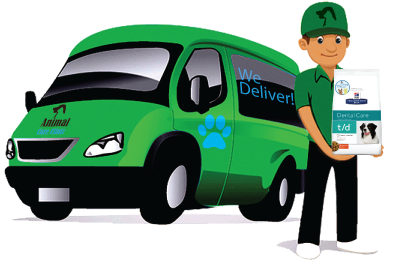 We are happy to offer FREE home delivery. Low on prescription food? Need a medication refill? Don't want to lug cat litter home? We can deliver it right to your door.
How Do I Get Home Delivery?
It's simple: Just call us with your order, and we'll deliver it to you on our next delivery run.
Details
We can deliver most items, but since we cannot guarantee the time of delivery, we can only deliver items that can be left by your door (e.g. non-perishable items). We also require items be paid in full before they are delivered. Deliveries are sent once per week (typically on Fridays).
Questions? For more information, don't hesitate to contact us.