Our renovation is done!*
* Or 95% done… Close enough. The last little bit always seems to take forever!
Why Did We Renovate?
We have been planning to expand the number of exam rooms in the clinic for a couple of years to be able to see pets with less waiting. However with COVID-19, we realized that:
Since clients were not allowed in the clinic in 2021, it was an ideal time to renovate and cause the least amount of disruption to our clients, and
(More importantly) now that clients have returned inside the clinic, being close together in reception while waiting for an exam to become free would no longer be as safe as it was in the past
Both of these realization lead us to push ahead with the renovation earlier than planned.
What Did We Renovate?
We renovated the reception area and exam rooms. By reducing the size of our outlandishly oversized reception, we were able to increase our number of exam rooms from 2 exams to 6 (!).
We are also added veterinary and team member work stations closer to the exam rooms, so there is a better workflow for our team, which translates into less waiting for our clients 🙂
Can I See the Difference?
Sure! We can't yet allow large tours of the building to see the changes in person, but we have posted pictures taken as we went. We have also created a pre-renovation tour video and will have a post-renovation tour video coming soon, so stay tuned!
Let's See It!
Videos
Photos
Pre-reno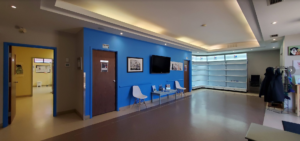 Just about to start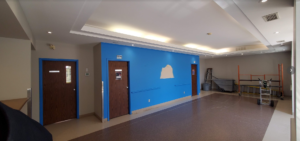 Bye-bye old exam rooms!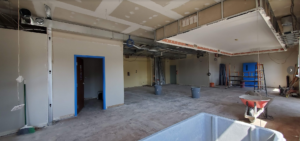 New exam rooms (just studs with orange scaffold in foreground)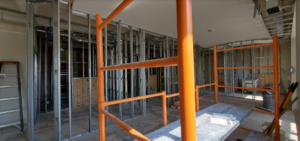 Drywall is in!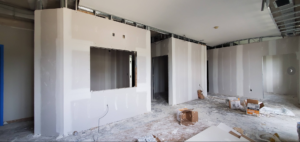 Cabinetry and new reception desk being built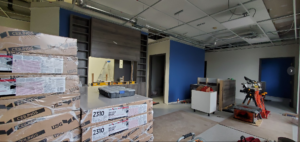 Almost there!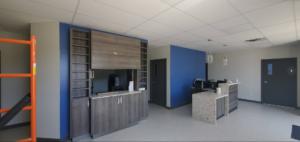 Done! (Say hello to our new fishy friends) 🙂