We are renovating to serve you and your pets better and to keep you safe.
Why Are We Renovating?
We have been planning to expand the number of exam rooms in the clinic for a couple of years to be able to see pets with less waiting. However with COVID-19, we realized that:
Since clients were not allowed in the clinic (per the government's mandate), it was an ideal time to renovate and cause the least amount of disruption to our clients, and
(More importantly) once clients were allowed to return inside the clinic, being close together in reception while waiting for an exam to become free would no longer be as safe as it was in the past
Both of these realization lead us to push ahead with the renovation earlier than planned.
What Are We Renovating?
We are renovating the reception area and exam rooms. We are reducing the size of reception (it was larger than we needed), and increasing from 2 exams to 6 exam rooms(!).
We are also adding veterinary and team member work stations closer to the exam rooms, so there will be a better workflow for our team, which will translate into less waiting for our clients 🙂
How Are You Seeing Appointments Without Exam Rooms?
A great question that we had to ponder before we began. We are fortunate that our clinic is actually two clinics: The new clinic (the part our clients go into), and the old clinic. You can see the old clinic in our pre-renovation tour video below.
The old clinic was the actual clinic prior to addition of the new clinic area in 2005. Following the addition, the old clinic simply became doctor and admin offices and storage. We have simply moved back into the old clinic for the time being.
You'll also notice a POD in the parking lot – that's where most of the stuff that had accumulated in the old clinic went so we could fit into the old clinic again (not to say that it isn't a bit squishy for everyone, but it's working!)
When Will The Renovations Be Done?
We were hoping for the end of May, but delays due to COVID-19 (both with the city permit office and due to the lockdowns) means that we will likely push into June.
Can I See the Progress?
Sure! We cannot allow anyone into the building to see the progress in person, but we will post pictures as we go (see below). We have also created a pre-renovation tour video and will add a post-renovation tour video when the reno is complete, so stay tuned!
Let's See It!
Videos
Photos
Pre-reno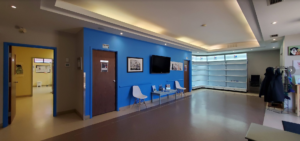 Just about to start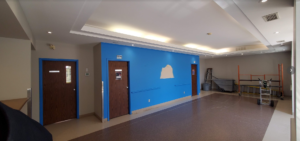 Bye-bye old exam rooms!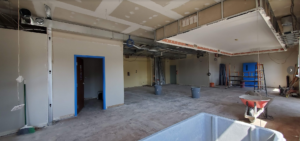 New exam rooms (just studs with orange scaffold in foreground)