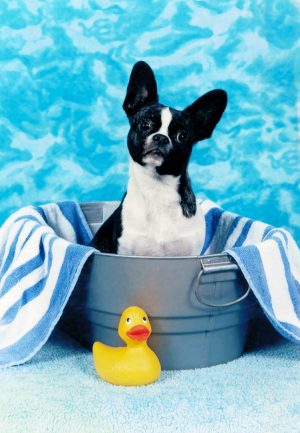 COVID-19 Update: Grooming Is Back!
We are booking grooming appointments. As with veterinary appointments, we are practicing curb-side drop off and pick up. Please call the clinic when you arrive and we will get your pet and let you know when to return for pick up.
—
We offer professional grooming within Animal Care Clinic. Our dedicated, professional groomer, Keri, has years of experience and works grooming magic with both dogs and cats.
Grooming Appointments
Grooming is available Monday to Friday by appointment. New grooming clients are always welcome, and do not need to use Animal Care Clinic as their veterinarian*
As we are a veterinary clinic, we do require that all pets be up to date on their core vaccinations for the safety of all pets entering our clinic. We are happy to provide a complete physical exam and vaccinations for your pet prior to your grooming.
Benefits of Grooming at Animal Care Clinic
There are lots of benefits to having your pet groomed at Animal Care Clinic! Our groomer is a seasoned pro who is highly experienced working with all breeds and styles of grooming.
We are also passionate about the health and safety of your pet. As we are a veterinary clinic, there is always a veterinary onsite should there be any concerns during your pet's groom.
We also book grooming through our main reception, so you can always get through to book an appointment. We accept payment through our front desk, so you can pick up food or prescriptions while grooming and use credit cards for payment (so no more running to grab cash before your groom!).
Meet Keri
Our groomer, Keri, has been with Animal Care Clinic since she was 16 years old, starting as an animal care attendant, and then joining us full time as our groomer after her training. To learn more, see Keri's bio »
Book Your Pet's Grooming
To book your pet's grooming, simply contact us!
* For dogs. For cats, we require they use us as their veterinarian, as cats may require sedation or other veterinary care to ensure a safe and comfortable groom