Special on Now:
Take a Bite Out of Inflation!
Times are tough and we're here to help. For a limited time, we're offering a full $30 off our appointment fee to help tame the inflation monster! Contact us for more information and to book an appointment.
Details: Applies to initial and full appointments booked at least 24 hours in advance. Cannot be combined with other offers or discounts.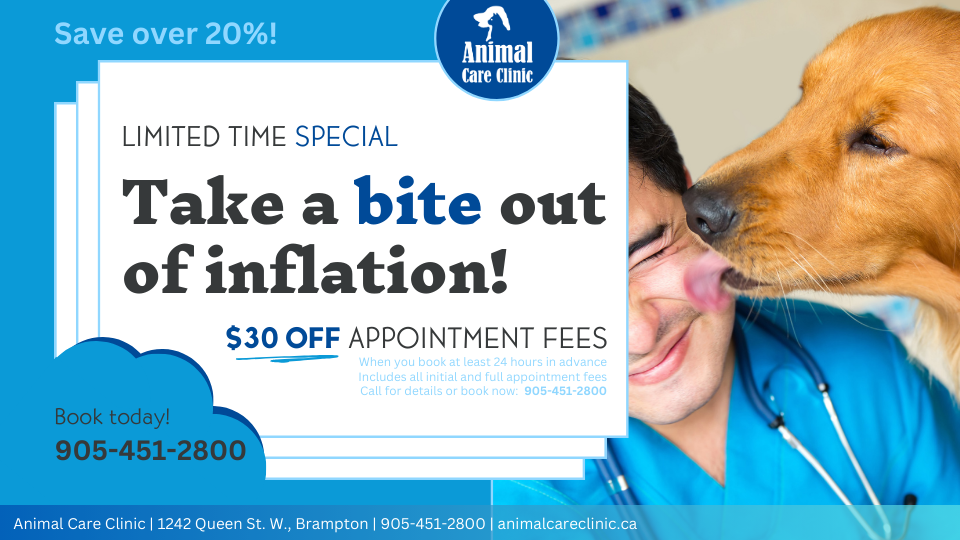 We're Welcoming New Clients!
We are currently welcoming new clients to our practice in Brampton, ON. By joining Animal Care Clinic we guarantee that you will not be disappointed with the level of service you will receive. To get started simply get in touch with us! You can call or email our clinic and one of our friendly staff members will be more than willing to help you.
New Client Info
Now Offering Instant Payment Plans
We know veterinary bills can add up. We offer instant-approval month payments to help make caring for your pet easier. Our payment plans offer interest as low as 0%. You can apply at any time, even if you are not sure if you want to use monthly payments. The application is secure and takes only about 3 minutes. Your approval result is instantaneous.
Questions? Ask away!
Extended Appointments
We have longer appointments to ensure that you have the time you need with our team. See what else makes us unique.
Caring & Compassionate
Our Team
Get to know the doctors and staff at Animal Care Clinic. We have a dedicated team of professionals who take the care of your furry family member seriously.
Educating Clients
Pet Health Library
We offer over 1200 professionally written veterinary articles on a variety of topics. Get in depth information about specific illnesses, breeds, and more!
Modern & Inviting
Take a Tour
Take a look at where we'll be treating your pet! We have an online gallery available online which showcases the various rooms in our wonderful clinic.